My Team
As a Financial Advisor for the Northwestern Mutual, I am committed to helping my clients whether they are concerned for their own financial needs or those of their family or business. I don't do it alone. Here you will find a listing of the people who help make it happen.
Together, we stand committed to providing the best customer service possible. If you have a problem or need assistance at any time, please let us know.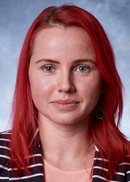 Katarina Varga
Katarina graduated with a Bachelor of Science in Business Administration from Sacred Heart University. Kat has been with Northwestern Mutual for over 3 years and oversees the growth and flow of the office as well as the development of financial advisors and representatives.
Kat was born in Slovakia and spent a year in Idaho during the pursuit of her degree. She enjoys horseback riding, is a Harley fanatic, and never misses a Boot Camp class.
Kat can help with:
Event inquiries
Internal office affairs
Contacting the Managing Director